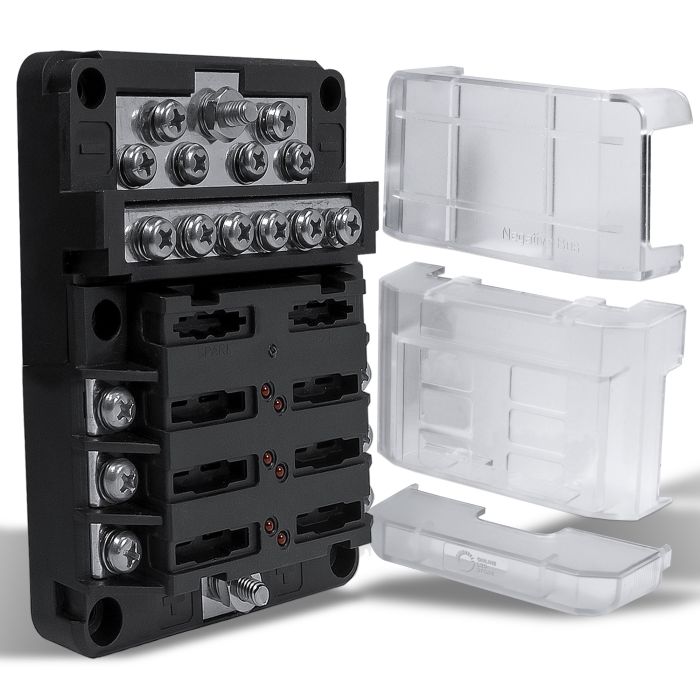 Free Shipping
1 Year Warranty
Details
The Right Way to Wire
There's always a right way and a wrong way to do something. Going off by yourself in a horror movie, wrong. Using an additional fuse block when adding accessories to your vehicle, right. Our kit allows you to supply power and ground to your new accessories without compromising your stock wiring or creating a jumbled mess of wires and fuses. And even though it can't protect you from the serial killer waiting in the back shed, your fuse/ground unit will keep your wiring and your vehicle safe if something goes wrong.
For Those Who Build Their Own Adventures
Whether it's lighting a trail or providing the soundtrack for your adventures, wiring makes the good times happen. And no matter where those good times take you, our fuse/ground unit is ready. Perfect for cleaning up the wiring on your car, truck, or boat, our kit comes with 12 grounding locations, tin-plated copper components for improved conductivity, and 6 fuse protected terminals for up to 100 amps of power. 
Boundaries are Best Seen in the Rear View Mirror 
Limits are for other fuse boxes. Ours expands to fit your life. Need more lights? A compressor? No problem. You're free to upgrade your fuse/ground unit with a second fuse box whenever you need. With a final total of 12 fuse protected terminals and 12 grounds, your equipment will never slow you down.
What's Included?
(1) 12-Way M4 Modular Ground Terminal Block
(1) Ground Terminal Block
(1) Ground Terminal Block Cover
(1) Pack of Screws
(1) Instruction Manual
Packed with features:
Modular Design (Expandable with a Second Fuse Block)
Blown Fuse LED Indicator
12-Way Built-In Ground Busbar
6-Way Outputs
Maximum of 30 Amp/Circuit; 100 Amp/Panel
Protective Cover Design
Hardware & Install
Mounting Type:
Surface-Mount
Mounting Hardware:
Fasteners
Operating Temperature:
-20°C~+85°C
Rec. Wire Size:
#10 - 16 AWG
Mechanical
Fuse Type:
Standard (ATC/ATO)
Number of Positive Circuits:
6.00
Positive Bus Size:
M5 x 0.8P
Positive Terminal Type:
Screws
Negative Bus Size:
M5 x 0.8P
Number of Negative Terminals:
12.00
Has Indicator Light?:
Yes
Electrical
Max DC Voltage Rating:
32V DC
Max DC Amperage Rating:
30.00
Max DC Amperage Rating Per Circuit:
100.00