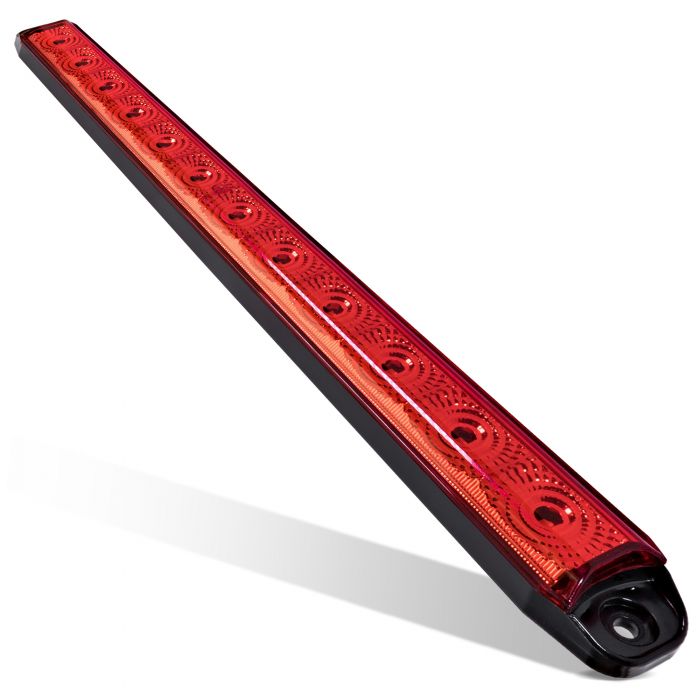 Free Shipping
1 Year Warranty
Details
Brake Light & Turn Signal Functionality In A Single DOT-Approved Id Bar
Graced with DOT FMVSS-108 certification, our 16-Inch trailer ID bar is a simple-to-install, highly-functional way to attract extra visibility to your 80" or wider trailer. Its reflective red lens is engineered to alert other motorists of your presence as well as maximize your on-road safety. But that's not all: this is the industry's first trailer ID bar featuring built-in brake light and turn signal functionality!
Waterproof & Submersible Design Stands Up To All-Weather Abuse
Sporting an IP67 waterproof and fully-submersible construction, this LED ID bar is designed to resist water and dust intrusion for exceptional all-weather durability that cheaper ID bars can only dream of. Additionally, all the metal fasteners on the unit are sealed for additional protection against inclement weather.
User-Friendly Installation Is A Breeze
This ID clearance light bar is designed to be easily installed by users of all mechanical aptitude. Features like color-coded wiring make installation safer and simpler. Additionally, detailed instructions are provided to help clarify the installation process.
What's Included?
(1) 16" Trailer Identification Light Bar
(1) Pack of Screws
(1) Instruction Manual
Packed with features:
DOT FMVSS-108 Approved
SAE S2I6U2PS Rated
TBT Function w/ Sequential Turn Signals
IP67 Waterproof (Submersible)
Premium Reflector Design
Solid Construction
Suitable for 80" or wider Applications
Warranty & Certification
Certification Detail:
SAE I6 P2 S2 (3)T DOT FMVSS-108
Hardware & Install
Lens Cover Material:
Acrylic
Mounting Type:
Surface-Mount
Mounting Hardware:
Fasteners
Operating Temperature:
-30°C~+50°C
Electrical
Operating Voltage:
8-16V DC
Power Output (Watt):
30.00