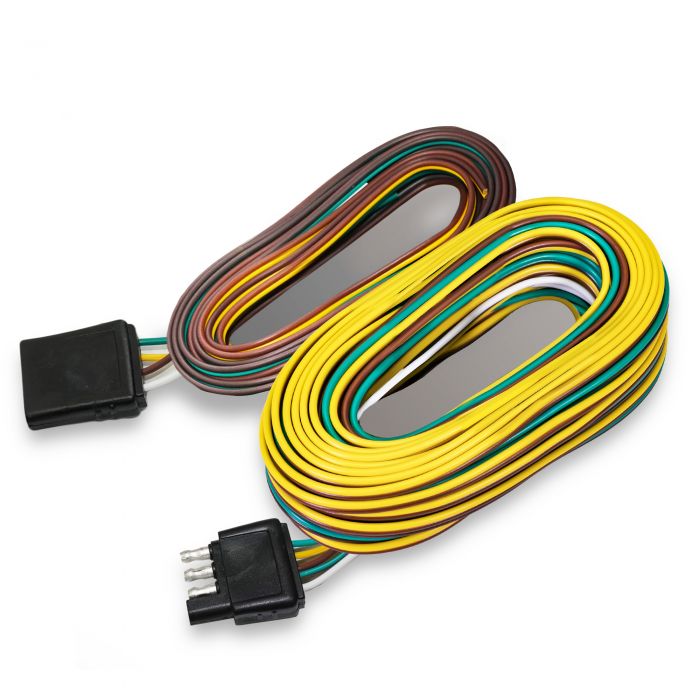 Free Shipping
1 Year Warranty
Details
A Complete SAE-Certified 4-Way Trailer Wiring Harness for Trailers Under & Over 80?
Our 4-way flat trailer harness kit comes ready-to-install with both the 25? trailer (male) and 4? vehicle (female) sides, making it the perfect harness kit for trailers under and over 80? in width. Complying with SAE J1128 standards for a low voltage primary cable, this trailer harness is a safe and straight-forward kit designed to simplify trailer light installations.
Safe and Simple Installation
The innovative wishbone design takes the running light circuit and splits it at the trailer connector so you do not have to run a jumper wire from one taillight to the other. To further simplify the installation process, our kit features color coded 18 AWG wires for safely determining each wire's function.
Superior Quality Guaranteed by a Generous Warranty
This 4-way flat wishbone style trailer harness kit is constructed from the highest quality materials and undergoes stringent quality assurance checks before leaving the factory. For additional peace of mind, we offer a generous 2 year warranty to ensure your complete satisfaction.
What's Included?
(1) Wishbone Style Trailer Harness
(1) Instruction Manual
Packed with features:
Male side (25?) & female side (4?) included in kit
Long total wiring length makes kit suitable for trailers under & over 80? wide
Color coded 18 AWG wires
SAE J1128 rated
Wishbone-style wiring setup
Hardware & Install
Operating Temperature:
-40°C~+105°C
Accessories