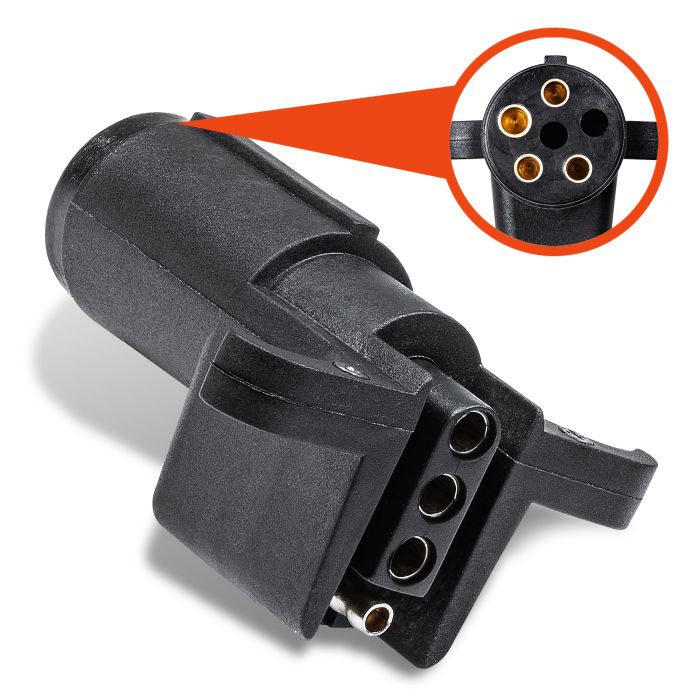 Free Shipping
1 Year Warranty
Details
Instantly Adapts Your Heavy-Duty (Round) Trailer Lighting Socket to Accept a Light-Duty (Flat) Connector
Just plug it in. Switch from a heavy-duty trailer with brakes to a smaller landscape or boating trailer requiring a flat 4-wire connector in no time. No need to cut, splice wiring, or dig out that ugly auxiliary harness when using a lightweight and durable 6 to 4-wire adapter from us.
Safe and Simple Installation
It literally takes seconds to install. Simply plug it into your vehicle's heavy-duty (6-wire) trailer light and brake harness socket. The secure fitting design of the adapter allows your vehicle's socket cover to lock it into place; while the nickel-plated copper wiring terminals provide optimum conductivity. Switching from a 4 to 6-wire connector has never been easier.
Superior Quality Guaranteed
This fully enclosed adapter is designed to stringent specifications and manufactured to last. The durable nylon housing is lightweight and compact. The electrical terminal connectors are stamped from genuine copper, precision formed for a secure fit, and dipped in nickel plating to increase longevity. We know you will be satisfied.
What's Included?
(1) 6-Way Round to 4-Way Flat Trailer Adapter
Packed with features:
Plug-n-Play Adapter
Heavy-Duty Nylon Exterior Body
Nickel-plated copper terminals
Easy Latch Design into OEM Connectors
Easy-Pull Finger Lugs Design