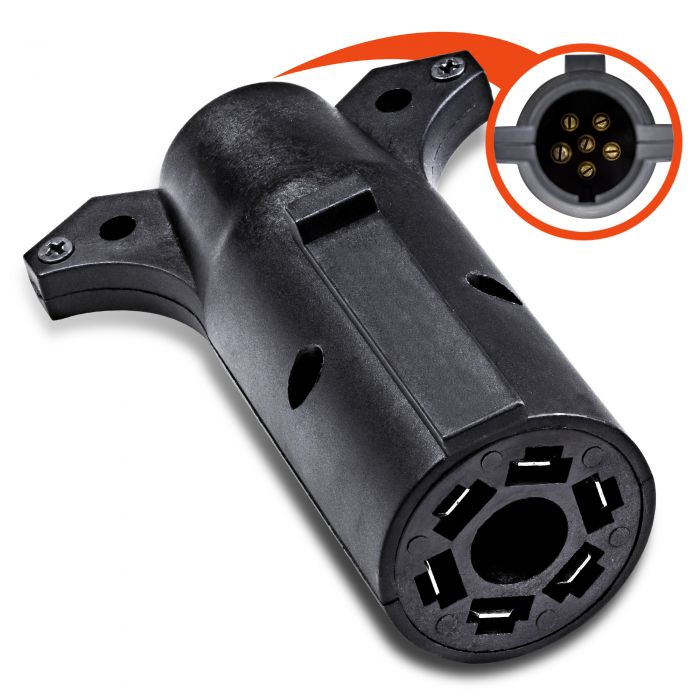 Free Shipping
1 Year Warranty
Details
Not All Adapters Are Created Equal
There are two common pin layouts for 6-way round plugs. Most adapters only cater to one of these layouts. But what if your layout is different than the adapter you just bought? You could plug in the adapter and find that your accessory lights don't work. The body of our 7-way blade to 6-way round adapter can be quickly opened and the internal wiring can be easily repositioned to fit your specific needs. Our convenient adapter can go anywhere with you and adapt to any 6-way round trailer plug.
Choose Safety
The adapter locks securely into your 7-way socket and won't let go. Bumpy roads? No problem. The 6-way side is keyed for quick and correct orientation of the trailer plug. The rugged nylon body is weather, corrosion, and impact resistant. The high-quality nickel-plated copper terminals prevent wear and corrosion while ensuring a solid connection every time. You can feel safe knowing your light will be bright and your brakes will be tight even in the toughest conditions.
Relax, We've Got You Covered
Our adapter is made from the highest quality components. But if you do have an issue you can feel confident knowing that we've got you covered with a one-year warranty.
What's Included?
(1) 7-Way Blade to 6-Way Round Trailer Adapter
Packed with features:
Plug-n-Play Adapter
Heavy-Duty Nylon Exterior Body
Nickel-plated copper terminals
Easy Latch Design into OEM Connectors
Easy-Pull Finger Lugs Design