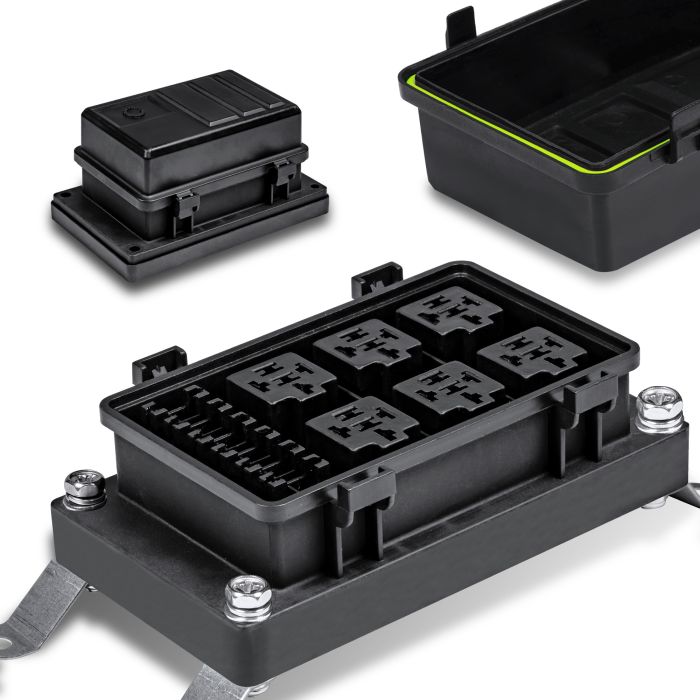 Free Shipping
1 Year Warranty
Details
Making Your Adventures Possible
Your 100 miles into a multi-day off-road expedition, the sun is going down, and the last thing you want to worry about is whether or not your lights will turn on when you flip the switch. But if you've trusted your fuses and relays to a waterproof relay box from us, you know you have nothing to worry about. Made from the same durable, heat-resistant nylon 66 used in parachutes and engine components; and packed with enough silicone gaskets and seals to give it an IP65 waterproof rating, this relay box is fully prepared for any contingency.
Get Lost, Just Not in Your Wiring
Trying to organize harnesses, fuses, and relays can quickly have you driving in circles. Get your bearings with a dedicated, waterproof relay box. Like a trail map for your wiring, our relay box is the most efficient way to consolidate, organize, and keep track of all your aftermarket accessories. Boasting a six relay/fuse capacity, this relay box is more than capable of powering and protecting up to six independent circuits.
Tackle Anything
When it comes to installing and using your new relay box, we don't leave you hanging. Our unique 4 bracket system easily adjusts to fit any vehicle or situation, and with all the terminals and seals included in the kit, you're sure to get a reliable and waterproof connection every time.
What's Included?
(1) Waterproof Fuse Relay Box
(1) Pack of Relay Rubber Pads
(1) Pack of Fuse Rubber Pads
(1) Pack of Relay Wire Terminals
(1) Pack of Fuse Wire Terminals
(1) Pack of Brackets and Fasteners
(1) Rubber Gasket
(1) Waterproof Ring
(1) Instruction Manual
Packed with features:
Durable Nylon 66 Exterior Body
IP65 waterproof Rating
Sockets Available for Up To 6 Circuits Setup
Waterproof Seals and Wiring Terminals Included
Versatile Bracket Mount Options
Hardware & Install
Mounting Hardware:
Fasteners
Operating Temperature:
-40°C~+105°C
Accessories