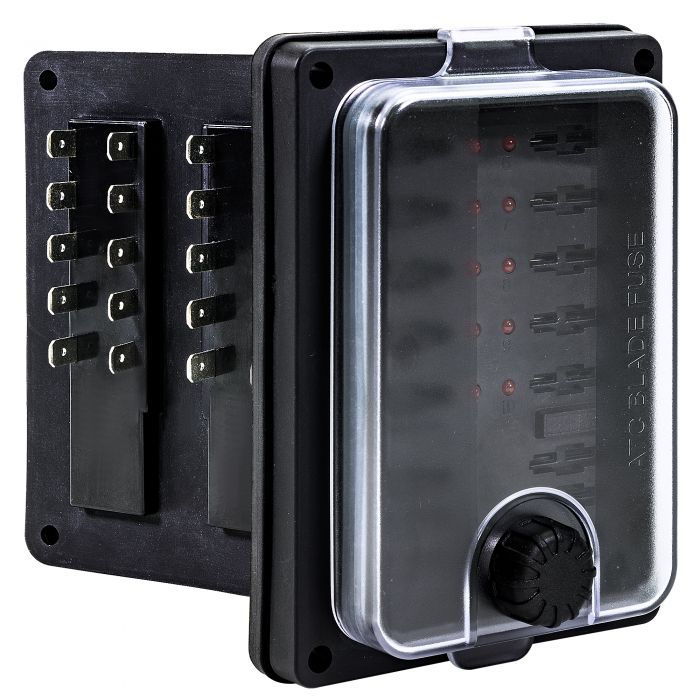 Free Shipping
1 Year Warranty
Details
The 10 way ATC/ATO waterproof blade fuse box with LED indicator lights protects the circuits and fuses against dust and powerful water jet while offering the convenience of quick diagnostic with the LED indicator becoming lit in the case of a blown fuse. Capable of taking an input of up to 32V DC, this waterproof blade fuse holder is equipped with standard .250" male quick disconnect terminals, features a clear lens cover to be placed over the fuses, have designated power input for each of the ten circuits rated at a maximum of 25 amps @ 12V DC, while having additional slots for spare fuses. The versatility of this waterproof fuse box makes it suitable for all sorts of applications where waterproof circuit protection is called for.
What's Included?
(1) Fuse Box
(1) Instruction Manual
Packed with features:
Individual Circuit Power Input Design
Blown Fuse LED Indicator
10-Way Outputs
Maximum of 25 Amp/Circuit
IP56 Waterproof Rating
Protective Cover Design
Hardware & Install
Mounting Type:
Surface-Mount
Mounting Hardware:
Fasteners
Operating Temperature:
-25°C~+85°C
Rec. Wire Size:
#10 - 16 AWG
Mechanical
Fuse Type:
Standard (ATC/ATO)
Terminal Material:
Tinned Copper
Number of Positive Circuits:
10.00
Positive Bus Size:
M5 x 0.8P
Positive Terminal Type:
Quick Disconnect
Positive Terminal Size:
.250"
Number of Negative Terminals:
0.00
Has Indicator Light?:
Yes
Electrical
Max DC Voltage Rating:
32V DC
Max DC Amperage Rating:
25.00
Max DC Amperage Rating Per Circuit:
100.00