Details
Perfect For Professional Applications
Whether you're a law enforcement officer or firefighter, our emergency LED dash strobe employs 12 potent LEDs packing 12 watts of power for superior visibility on the job. Select from 32 distinctive flash patterns, including Single Burst, Double Burst, and Random Burst. This highly-functional LED vehicle dash light even has a memory recall function which remembers the last pattern you used.
Fully-Loaded With Formidable Features
The SolarBlast SBWL26 LED dash strobe packs professional power and everyday accessibility: use the included cigarette lighter adapter to conveniently power the unit on/off and access steady mode. For easy wiring access and mounting options, our LED warning light has a 13 1/8' straight power cord. Syncing multiple lights is simple: splice the wires of each unit and select the same flash pattern for your desired use. Adjustable mounting brackets and suction cups let you mount the high-intensity LED strobe on your vehicle's dash, deck, or windshield.
Rugged Durability Comes Standard
Crafted from ultra-durable metal, this emergency LED dash strobe is resilient enough to survive years of everyday use. Its slim and streamlined design conveys a low profile look perfect for the discretion demanded by undercover cops, while its eye-popping LED illumination garners attention when you need it.
What's Included?
(1) 8" Dash Light
(1) Pack of Suction Cups
(1) Lens Cover
(1) Flashback Guard
(1) L-Shape Mounting Bracket
(1) Instruction Manual
Packed with features:
12 high-intensity LEDs with optic lenses
32 flash patterns with memory recall
Sleek, low profile design
13 ft. straight power cord suitable for front/rear windshield mounting
Lighting
LED Manufacturer:
EPISTAR
Hardware & Install
Connector Type:
Cigarette Lighter Adapter
Lens Cover Material:
Polycarbonate (PC)
Mounting Type:
Surface-Mount
Mounting Hardware:
Suction Cups
Housing Material:
Aluminum
Operating Temperature:
-30°C~+65°C
Electrical
Operating Voltage:
9-30V DC
Power Output (Watt):
18.00
Accessories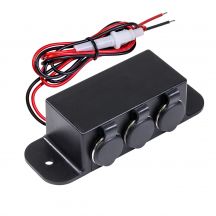 Price
$7.50
Current Sale Price
$6.00