Details
Perfect Visual Warning Device For Law Enforcement, Emergency & Public Safety Professionals
Equipped with 40 high-intensity LEDs capable of projecting blazingly bright 360° illumination in 63 patterns, this emergency LED strobe lightbar promises superior all-day visibility in a sleek and discreet package, making it an ideal emergency visibility lighting solution for police officers, EMTs, construction workers and more.
Armed With All The Features You Need
Our LED hazard magnetic strobe bar is plug-and-play simple thanks to the unit's 12ft straight cord and cigarette lighter plug. Securely mount the LED emergency mini light bar on your vehicle's rooftop with the included mounting brackets. When it comes time to replace an LED, simply remove the durable polycarbonate cover. And for greater utility, you can even sync up this light with other select LAMPHUS® emergency lights.
Quality Of A Higher Caliber
This mini LED roof strobe is built to last thanks to a ruggedized construction and weatherproof design. Optimize your visibility on-the-job with this long-lasting LED hazard mini lightbar.
What's Included?
(1) Foam Protection Pad and Fasteners
(1) Magnet and Fasteners
(1) U-Shape Bracket and Fasteners
(1) 12" Mini Light Bar
(1) Instruction Manual
Packed with features:
40 high-intensity LEDs with 63 flash patterns (with Steady Burn) & memory recall
Sync up multiple units or with other LAMPHUS® NanoFlare™ strobe lights
Removable weatherproof polycarbonate cover for easy maintenance
Includes magnetic & permanent mounting accessories
12ft straight cord with heavy-duty cigarette lighter plug (plug & play operation)
Warranty & Certification
Certification Detail:
SAE J845 Class I Rated
Hardware & Install
Connector Type:
Cigarette Lighter Adapter
Lens Cover Material:
Polycarbonate (PC)
Mounting Type:
Surface-Mount
Operating Temperature:
-30°C~+50°C
Electrical
Operating Voltage:
10-30V DC
Power Output (Watt):
49.92
Accessories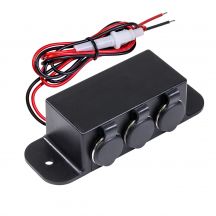 Price
$7.50
Current Sale Price
$6.00