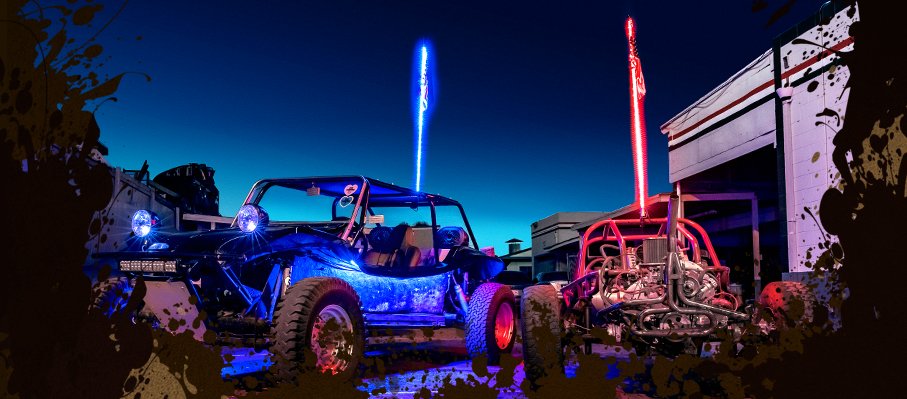 Imagine zooming up to an impossibly steep sand dune in your off-roader at the perfect approach angle, tenaciously trudging your way up its sandy surface, at long last cresting the perilous peak only to be greeted with the glorious sight of...an oblivious off-road enthusiast barreling straight at you!
This is the kind of nightmare scenario every weekend warrior or seasoned four-wheeler unquestionably fears. Thankfully, it's also relatively easy to avoid such catastrophes when you equip your rig with LED whips.
LED safety whips are essential off-road gear that you shouldn't live without for three crucial reasons:
Reason #1: LED Whips Keep You Safer Off-Road
Whether traversing sweeping sand dunes or scaling sheer mountainsides is your thing, off-roading in your ride of choice tends to kick up a significant amount of dust, dirt, and debris. While we'll fully admit that the billowing clouds of the dirty stuff that you generate when you take the trail less traveled can look pretty awesome, they also obscure your visibility, at times even rendering your ride completely invisible to your fellow off-roaders. This is an even greater issue during times of day with low ambient lighting like dusk, night, or dawn.
Optimizing your ATV, UTV, dune buggy, or 4x4 with OLS LED whips is an extremely effective solution to increasing your off-road visibility. Compared to traditional sand flags, our LED whip antennae sport high-intensity RGB LEDs to deliver brilliantly bright illumination so others will be able to spot you from miles away.
Our LED light whips feature a durable, flexible design to withstand strong winds and extreme driving situations. They're also engineered to be waterproof, so you can hit the trails or go mudding even when the sun isn't shining. In other words, they're built to be bulletproof and keep you safe, rain or shine, anywhere the pavement ends.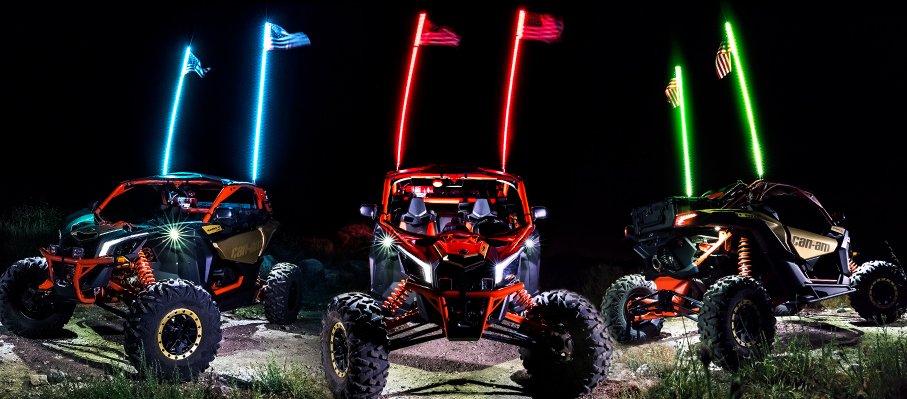 Reason #2: LED Whips Enhance The Style Of Your Ride
Not only do LED whips maximize your safety off-road, but they also add some serious flash to your wheels. All OLS LED whips boast bright LEDs that you can customize in 20 unique color combinations to suit your distinctive style or mood. Just use the ergonomic and user-friendly RF remote control to conveniently customize the color setup of your whips right from the driver's seat.
You can choose from 3', 4', 5' and 6' sizes to perfectly complement your vehicle's style. And for the perfect patriotic touch, all OLS LED Whips come standard with a U.S. flag so you can ride in style any time of the day.
Reason #3: LED Whips Are Easy On Your Wallet & Toolbox
OLS LED whips may be exquisitely engineered and handier than your pocket-sized multi-purpose tool, but that doesn't mean that they're priced into the stratosphere: our LED safety whips are attractively priced to fit any off-road enthusiasts' budget.
Additionally, these LED antennae whips are designed to have a universal mount and come with mounting accessories for the whip and flag. Whether your off-roading rig is a lifted truck, SUV, ATV, sand car, or dune buggy, our LED whips are easy-to-install. You can even permanently install these whips on your vehicle with a bit of drilling!
The Bottom-Line
When decking out your off-road warrior with the latest and greatest lighting upgrades, don't forget to add some OLS LED whips. These gotta-have-it enhancements will make your vehicle:
More visible and safer off-road
More personalized and stylish
More rugged and ready to tackle terra firma during dusk, nighttime, or dawn