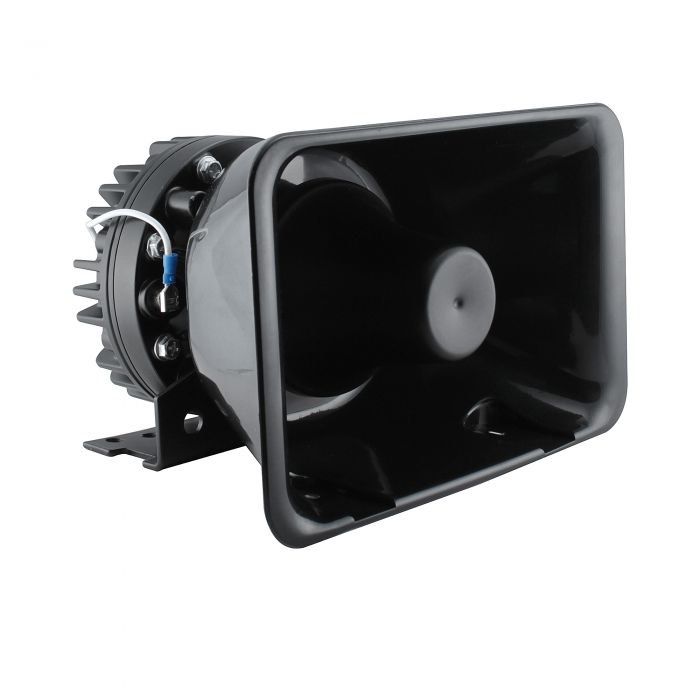 Free Shipping
2 Year Warranty
Details
Strength Where it Matters
Strength and dependability are two words that are not often applied to siren speakers. But, if your speaker is going to survive the heat, snow, and rain, strong and dependable is exactly what it needs to be. Equipped with steel and ABS bodies, rust-resistant components, and an IP66 rating, these speakers are built to deal with anything you put them through.
What the Numbers Mean
But what do dB and Hz ratings actually mean? First, let's talk about decibels. 120 - 130 dB Is the standard range used by almost all emergency sirens. So our siren is as loud as just about every other siren out there (so why pay more?). And what about hertz? Hertz is a measure of frequency, how low or high pitched a sound is. Some speakers only produce 600 - 2700 Hz, and others don't even list their range. But our speakers can produce 400 - 4000 Hz. A wider range means cleaner sound and more versatility.           
Safety For Everyone
Whether you drive a police vehicle, an ambulance, or your own POV, navigating traffic can be one of the most dangerous parts of your job. An auditory warning device is essential. But should you have to break the bank to stay safe? We don't think so. Our compact siren speaker is just as powerful as the other guys, but costs less. Why? Because our products focus on the things you need - dependability, strength, and function - rather than on unnecessary features and gimmicks.
What's Included?
(1) 100W 120-130dB Siren Speaker
(1) Instruction Manual
Packed with features:
120 - 130 dB Sound Compression Level
100W Output
8 Ohm Impedance
400 - 4000 Hz Operational Frequency
Hardware & Install
Mounting Type:
Surface-Mount
Mounting Hardware:
Fasteners
Operating Temperature:
-20°C~+70°C
Electrical
Operating Voltage:
12V DC
Power Output (Watt):
100.00
Sound
Decibel Rating (dB):
120-130
Resistance Rating (Ohm):
8.00
Sound Frequency Range (Hz):
400-4000