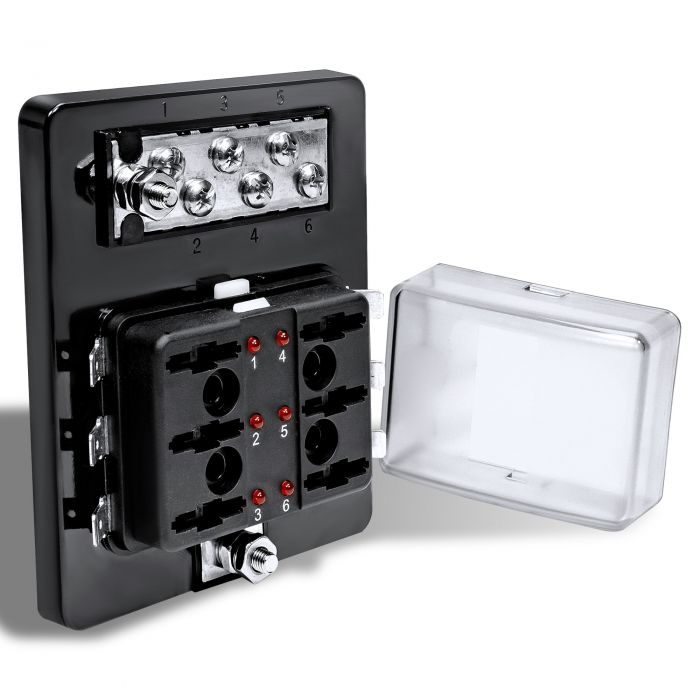 Free Shipping
1 Year Warranty
Details
Why Pay More For What You Don't Need
What is the purpose of a fuse box? To organize your wiring, send fuse protected power to your accessories, and not break in the process, it's not really that complicated. But some companies feel that you need to fork out a load of cash to do this with their fancy fuse boxes... yeah, doesn't make sense to us either. So we set out to design a fuse box that focuses on the things you need without all of the price jacking fluff.
The Solution
First, we started with an impact, heat, and corrosion resistant PBT base to ensure a long life even in the worst conditions. Then, we designed a PC cover to shield and protect your fuses from damage.  And finally, we added highly conductive copper components to make sure your fuse box accomplishes its main purpose, providing clean and consistent power to your lights and accessories.
Plus Something To Make Life Easier
But we didn't stop there. Since we were going for "most bang for your buck" it made sense to add a few convenience items as well. For example, it can be hard to find a solid ground in a modern car, but with the integrated negative busbar you can easily give all your accessories an organized and uninterrupted path back to ground. And since finding a blown fuse can be a pain, especially in the dark without tools, we included easy to see blown fuse indicator lights.
What's Included?
(1) 6-Way Blade Fuse Box
(1) Instruction Manual
Packed with features:
Blown Fuse LED Indicator
Built-In Ground Busbar
6-Way Outputs
Maximum of 30 Amp/Circuit; 100 Amp/Panel
Protective Cover Design
Hardware & Install
Mounting Type:
Surface-Mount
Mounting Hardware:
Fasteners
Housing Material:
Polycarbonate (PC)
Operating Temperature:
-20°C~+85°C
Rec. Wire Size:
#4-6 AWG for Input and #12-16 AWG for Output
Mechanical
Fuse Type:
Standard (ATC/ATO)
Terminal Material:
Tinned Copper
Number of Positive Circuits:
6.00
Positive Bus Size:
M5 x 0.8P
Positive Terminal Type:
Quick Disconnect
Positive Terminal Size:
.250"
Negative Bus Size:
M5 x 0.8P
Number of Negative Terminals:
6.00
Negative Terminal Size:
M4 x 0.7P Screws with Captive Lock Washers
Has Indicator Light?:
Yes
Electrical
Max DC Voltage Rating:
32V DC
Max DC Amperage Rating:
30.00
Max DC Amperage Rating Per Circuit:
100.00