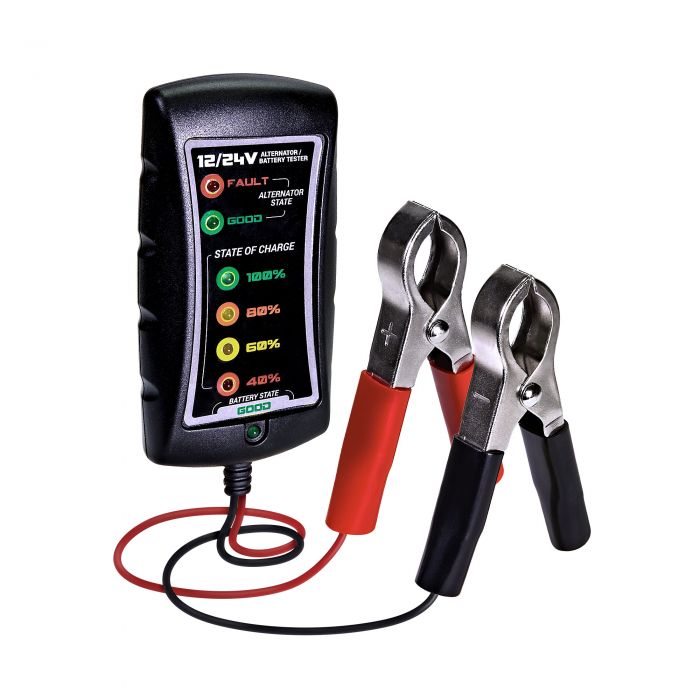 Free Shipping
1 Year Warranty
Details
Accurate Status Analysis For Your 12V Or 24V Battery—And Alternator Too!
Whether your battery is 12V or 24V, this car battery & alternator tester delivers precise analysis of charge and status levels. Testing the battery is simple: with the engine turned off, connect the RED battery clamp of the tester to the positive battery terminal and the BLACK battery clamp to the negative battery terminal and the battery state will display followed by the state of charge. To test the alternator, have the engine running and follow the procedure above. You can even effortlessly test whether your battery charger is charging your car, bike or truck/SUV battery.
Designed For Masterful Mechanics and Novices Alike
Engineered specifically with user-friendliness in mind, this auto battery tester comes fully-loaded with such helpful features as extra-large clamps, intelligent LED status indication, and lightweight portability. Even if you're not handy with a wrench, detailed instructions are also included for your convenience.
You'll Always Be In Charge Of Your Battery And Alternator Status
Being stranded by the side of a busy highway or a dangerous neighborhood because of a dead battery or failing alternator is the worst. Take charge of your safety (and your loved ones' too) on the road by regularly monitoring your vehicle's battery and alternator condition with our 12/24V DC Battery/Alternator Tester.
What's Included?
(1) Battery/Alternator Tester
(1) Instruction Manual
Packed with features:
LED Indicator Display for Alternator or Battery States
12/24V Battery Compatible
Heavy-Duty Clamps
Hardware & Install
Operating Temperature:
-20°C~+60°C
Mechanical
Number of Positive Circuits:
0.00
Number of Negative Terminals:
0.00
Has Indicator Light?:
Yes