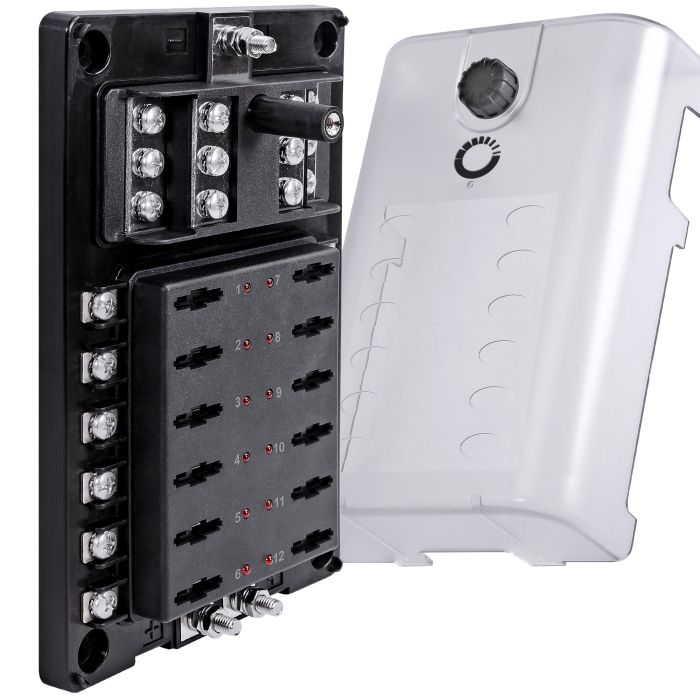 Free Shipping
1 Year Warranty
Details
The Ideal 12-Circuit Blade Fuse Block For Vehicular And Marine Dc Electrical Systems
This fuse box consolidates branch circuits so you don't have to fuss over the messy tangled wiring associated with in-line fuses. Storing up to 12 ATC/ATO/ATF blade fuses up to 30A max per circuit, this blade fuse box is perfect for automotive, marine, outdoor and home applications.
Negative Ground Connections & Dual Positive Power Connections
Our fuse block has negative ground connections (1x ground input and 12x ground outputs) for superior functionality. Additionally, dual positive power connections achieve a high maximum operating amperage of 200A.
Designed To Deliver Maximum Safety & Security For ATC/ATO/ATF Blade Fuses
Its clever design features a thumbscrew affixed to the cover to prevent being misplaced, stainless steel screws for corrosion protection, recessed mounting holes to prevent shorts, comes with labeling stickers, and a 1" fuse placement clearance for compatibility with E-T-A Thermal Circuit Breakers.
What's Included?
(1) Fuse Box
(1) Oval Sticker Sheet
(1) Instruction Manual
Packed with features:
Dual Positive Power Input Studs
1" fuse space clearance compatible w/ E-T-A Thermal Circuit Breakers
Blown Fuse LED Indicator
12-Way Built-In Ground Busbar
12-Way Outputs
Maximum of 30 Amp/Circuit; 200 Amp/Panel (100Amp Each Side)
Protective Cover Design
Hardware & Install
Mounting Type:
Surface-Mount
Mounting Hardware:
Fasteners
Operating Temperature:
-20°C~+85°C
Rec. Wire Size:
#10 - 16 AWG
Mechanical
Fuse Type:
Standard (ATC/ATO)
Terminal Material:
Tinned Copper
Number of Positive Circuits:
12.00
Positive Bus Size:
M5 x 0.8P
Positive Terminal Type:
Screws
Positive Terminal Size:
M5
Negative Bus Size:
M5 x 0.8P
Number of Negative Terminals:
12.00
Has Indicator Light?:
Yes
Electrical
Max DC Voltage Rating:
32V DC
Max DC Amperage Rating:
30.00
Max DC Amperage Rating Per Circuit:
200.00