Lee Marsalko | Firefighter at City of Johnstown
Having used a variety of lights throughout my career, people often ask me, "What lights are the best?" or, "What lights do you use?" After years of wasting money on several different products, I've finally found a product that I'm very pleased with. Having heard several good reviews on online-led-store.com, I decided to give them a try. In my opinion, Online-led-store.com has passed up their competitors with their products.
From their LED spot/flood lighting to the LED strobes, I've had the pleasure to use both. My name is Lee Marsalko and I'm a firefighter for the City of Johnstown, PA. Currently, I have the LED spot/flood lights mounted on my personal SUV for off road use. Not only was I shocked with the results, but my friends and co-workers were too. We've used and trained with these lights in some of the darkest areas we could take them, and there still was no need for additional lighting. We all were VERY impressed.
The slick look of the LED lights set my vehicle apart from all the other ones like it. While they give it more character on the streets, they really prove themselves in the woods and on the trails. There isn't even a comparison to standard headlights. They are also very well built with a rugged housing, fit for any on or off road situation.
Would I recommend these lights? Absolutely! They are very easy to install and come with all the mounting equipment you need. You can't argue about the price, these things are well worth what you pay for them. So if you're trying to buy a cool looking, rugged product that really does its job, look no further. Thank you online-led-store.com!"
Shawn Carnahan | IRP/EMT Citizens Ambulance Service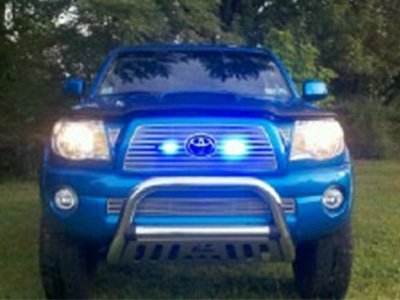 My name is Shawn Carnahan and I am an IRP (immediate response person) /EMT for Citizens Ambulance Service out of Indiana County Pa. My role as an IRP is to respond to medical emergencies in my personal vehicle within my call area, along with the responding ambulance. I have recently been given the opportunity to use and review the Lamphus Solarblast SBLHO4 TIR 4W Grille Deck Light Heads. I must say after installing these lights on the grille of my truck and utilizing them in my responses, these lights have proven to be a powerful addition to increasing my response times. With the high intensity setting I have them set on, I have vehicles reacting and allowing me to safely pass them for my response to the incident a lot sooner than with my visor light alone. I was amazed at how much further away cars were reacting to seeing these LED lights. I will say I am no electrician by any means and was a little intimidated by all the wires that was coming off the back of the light head itself. However, after some reading and some understanding, these lights installed quite easily. I love the 22 flash patterns that are available along with the ability to synchronize them together. The compact size allows for mounting almost anywhere interior or exterior and given the opportunity, would purchase and install more. If you want to get the public to see and recognize you sooner and further, these lights are a must buy and I would highly recommend them to anyone who wishes to outfit their vehicle, personal or commercial.
Submit Your Own Testimonial
Once we've received your submission, it will take us a couple of days to review it, once approved we will post it on our testimonial page.