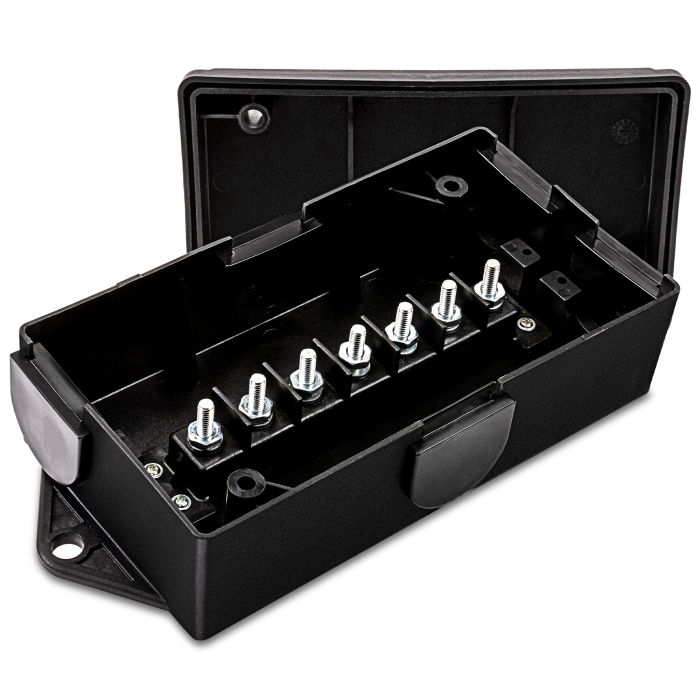 Free Shipping
1 Year Warranty
Details
7-Way Junction Box Secures and Organizes Trailer and Auxiliary Wiring
Seven steel studs set in a protective plastic housing, provide the perfect junction for segmenting trailer wiring. The straightforward design helps you quickly identify, repair, or upgrade your trailer wiring through the available wiring ports. The included open grommets protect wiring in the used ports while the solid grommets seal off any that are unused.
Safety is Job Number One
Protect yourself and your existing trailer lighting harness with a 7-way junction box. The rugged plastic housing prevents wiring from shorting against the metal frame or other components while providing a weatherproof compartment for joining circuits together; keeping your lights bright and your brakes tight even in the worst conditions.
What the Pros Use
Looking to correctly rewire your heavy-duty trailer (or RV) or just to freshen it up? Online LED Store's 7-way junction box will give your trailer electrical wiring "THE" qualitative professional look you desire. The OEM quality junction box allows you to securely connect the 7-primary trailer electrical wires and more!
What's Included?
(1) Junction Box
(1) Wire Color Indication Sticker
(1) Set of Fasteners
(1) Pack of Rubber Covers
(1) Instruction Manual
Packed with features:
The durable plastic housing and rubber seals secure and protect your wiring
Open and solid rubber grommets give you multiple wiring options
Color coded stickers for a no hassle install
Mounting hardware, terminal nuts, grommets, and installation guide included
Keeps your wiring clean and professional
Hardware & Install
Operating Temperature:
-40°C~+105°C