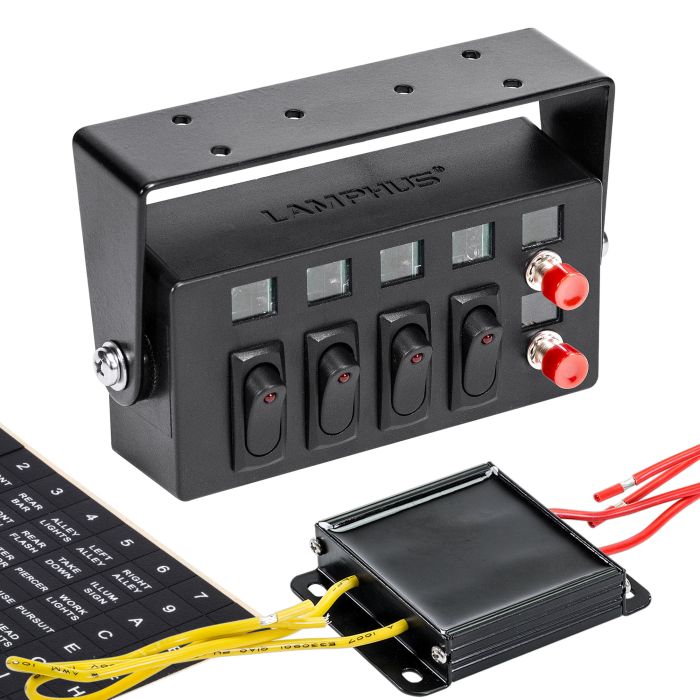 Free Shipping
1 Year Warranty
Details
Complete Control Over Your Emergency Lights & Accessories In Your Fingertips
Whether your vehicle is equipped with grille lights, dash strobe lights, underbody LEDs, or off-road construction lights, the LAMPHUS SWBX42 LED Backlit Switch Box consolidates all your accessory wiring into a central control console. The input wires are separated for each switch which provides the user the flexibility to power each switch with different power sources, making this switch box ideal for powering emergency warning lighting used on police, firefighter, construction, or volunteer vehicles.
Centralize Messy Accessory & Lighting Wires In Your Vehicle
No one likes having to untangle the electronic spaghetti that results from having too many wires loosely packed in a small area. The LAMPHUS SWBX42 4 On/Off + 2 Momentary Switch Box condenses untidy wiring into a factory-correct style unit, potentially solving wiring issues and delivering a neat aesthetic.
Furnished with functional features
This multi-purpose switch box is loaded with desirable features. Each of the four 15 Amp rocker switches has their own blade fuse for added functionality. An LED backlit display makes identifying which switch is engaged incredibly easy. Mounting this 6-switch box is also simple: use the adjustable swivel bracket to mount it on almost any surface. And a one-way diode is included as a vital prevention accessory limiting the current flow to one direction.
What's Included?
(1) Switch Box
(1) Sheet of Label Stickers
(1) Pack of Screws
(1) 1-Way Diode Module
(1) U-Shape Mounting Bracket
(1) Instruction Manual
Packed with features:
4 x Heavy-Duty 15A LED Rocker Switches
2 x 5A Momentary Switches
LED Backlit Display
Includes Label Stickers
360° Adjustable Swivel Bracket
Hardware & Install
Mounting Type:
Bracket-Mount
Mounting Hardware:
Fasteners
Housing Material:
Aluminum
Operating Temperature:
-20°C~+65°C
Mechanical
Has Indicator Light?:
Yes
Electrical
Max Switching DC Voltage:
12V DC
Dielectric Strength:
AC 1500V 1 minute
Max Switching AC Amperage:
0.00
Max Switching DC Amperage:
25.00
Contact Resistance:
< 50 mohm
Insulation Resistance:
>100 Mohm @ 500V DC