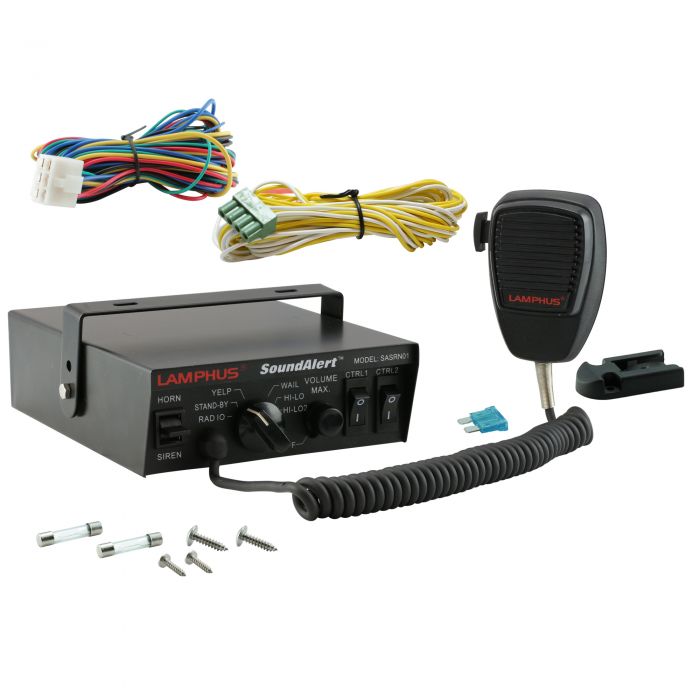 Free Shipping
2 Year Warranty
Details
The LAMPHUS SoundAlert 100 Watt Siren and Switch Box comes with a universal mounting bracket making it suitable for all emergency responding and privately owned vehicles. This mechanical siren offers the essential function of different siren tones, wail, yelp, horn, Hi-Lo, Hi-Lo 2, radio broadcast, and two auxiliary switches to control other equipment on the vehicle. Pre-wired unidirection microphone with PTT (push to talk) button overrides the siren during time of usage, and hands-free operation with override from the horn ring. Constructed of heavy duty, corrosion-resistant aluminum housing, the LAMPHUS SoundAlert 100 Watt Siren is made to satisfy your public addressing and audio warning needs.
What's Included?
(1) 100W Siren
(1) U-Shape Mounting Bracket
(1) 4-Pin Wiring Harness
(1) 6-Pin Wiring Harness
(1) Microphone Clip, 15A Blade Fuse, 20A Fuse, and Fasteners
(1) Instruction Manual
Packed with features:
100 Watt amplifier.
Function includes: Radio/Standby, Wail, Yelp, Hi-Lo, Horn, and Manual Siren.
2 auxiliary switches fused at 20 amp each allows other equipment to be powered on/off.
Hands-Free Operation with override from the horn ring.
Comes with pre-wires microphone with push to talk button.
Hardware & Install
Mounting Type:
Surface-Mount
Mounting Hardware:
Fasteners
Operating Temperature:
-20°C~+70°C
Electrical
Operating Voltage:
12V DC
Power Output (Watt):
69.60
Sound
Resistance Rating (Ohm):
8.00
Sound Frequency Range (Hz):
400-4000