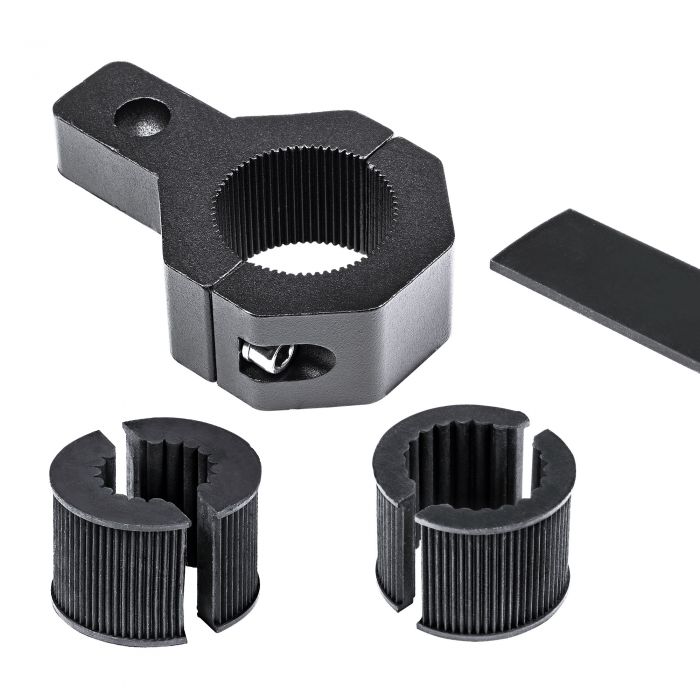 Free Shipping
1 Year Warranty
Details
Big Things Come in Small Packages
This is what a bar clamp should look like.
The Mini Bar Clamp allows you to mount lights and light bars, and fits perfectly onto vertical bars with a smaller diameter such as roof racks, roll cages, or even handlebars. The Mini Bar Clamp fits bars that are .75", 1" and 1.25" in diameter.
The Mini Bar Clamp's size means that it can be squeezed into tighter areas while the aluminum body allows it to be both durable and lightweight.
The Mini Bar Clamp's sturdy and lightweight aluminum body make it ideal for off-roading and rural areas and are the perfect companion to your ATV, motorcycle or truck.
Rubber Meets the Bar
The Mini Bar Clamp comes with rubber teeth inserts to create a tighter grip on bars with smaller diameters. The rubber teeth also serve to protect your aluminum bar clamp, and create an ultra-tight grip that doesn't loosen over time. For bars with larger diameters, the mini bar clamp comes with a rubber strip that protects the aluminum teeth from being worn down.
Everything You Need
Tired of those mounting kits where you need a separate drill bit and screwdriver to mount your bar clamp? We are too. The mini bar clamp kit comes with everything you need to install your bar clamp, and doesn't require any drilling. Just choose the rubber inserts you need, and bolt the clamp using the included hex key.
What's Included?
(1) Bar-Mount Clamp
(1) Set of Fasteners
(1) Set of Rubber Inserts
(1) Rubber Pad
(1) Instruction Manual
Packed with features:
Simplifies LED light bar installation onto your roof rack, bull bar, or headache rack
Compatible with tubes of  .75", 1", 1-1/4" in diameter
Includes Allen Hex Key
Hardware & Install
Mounting Hardware:
Fasteners
Housing Material:
Aluminum
Accessories